MAYFLOWER II AND PLIMOTH PLANTATION
AT THE KIND INVITATION OF ELLIE DONOVAN (EXECUTIVE DIRECTOR) AND JESSICA RUDDEN-DUBE (DEPUTY DIRECTOR), BOTH OF PLIMOTH PLANTATION, AN INVALUABLE OPPORTUNITY AROSE TO BE ABLE TO TRAVEL TO PLYMOUTH (MASSACHUSETTS, USA) IN ORDER TO VISIT THE MAYFLOWER II AND THE PLANTATION.
Originally the location for the Pilgrims' first home in the New World, today Plimoth Plantation is a not-for-profit organisation whose aim has been, since it opened as a museum in 1947, to provide a unique educational resource charting the history, culture and evolution of the area – not only based on the arrival of the Pilgrims in 1620, but, importantly, of the indigenous Wampanoag population as well.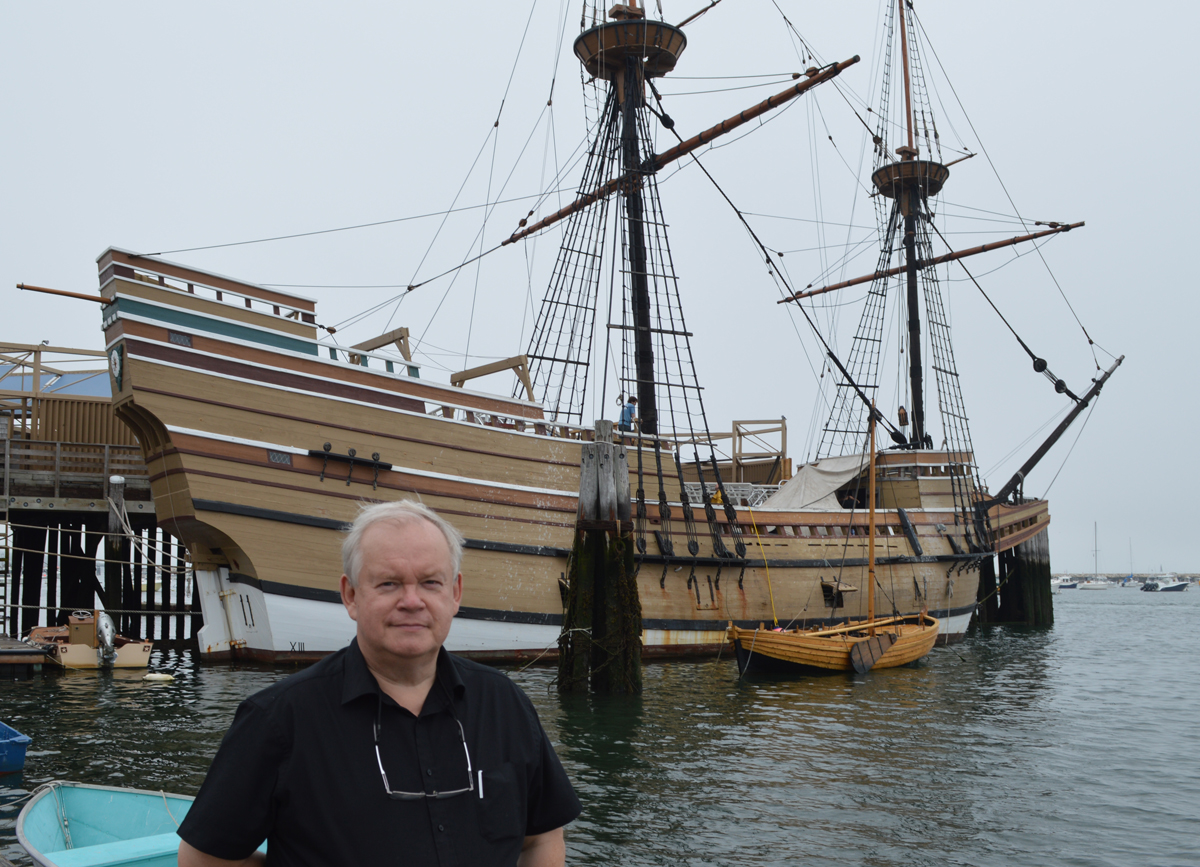 The Mayflower II replica was built using traditional shipbuilding techniques in the mid-1950s at Brixham, South Devon, using ship plans held by the Plimoth Plantation Museum. The Mayflower II left Plymouth, UK on 20 April, 1957, captained by Australian-born Alan Villiers, and arrived at Plymouth, Massachusetts on 22 June.
See the videos below:
THE VISIT
Over three days, visits were undertaken to the Ship, the Plantation, the amazing costume repository held by the Plantation and the Mayflower II's shallop (also under renovation at the time). 
As with the ship herself, the shallop was originally built in the 1950s to be used as a tender. In 1620, the original Mayflower's shallop was shipped across the Atlantic in the lowermost space of the vessel in four pieces, and then reassembled to transport the early exploration teams from the ship, moored up at Cape Cod's hook peninsula (today Provincetown Harbor) to the nearby coast, and later to the western part of Cape Cod Bay, landing at Plymouth Rock.
As well as the marvellous Plimoth Plantation personnel, we would also like to thank the Mayflower II's Captain Whit Perry and his crew most sincerely for the amazing assistance they provided in helping Professor Robert Stone to capture images, including 360o panoramas, from every location of the ship, including from the mainmast crow's nest. These images, plus the subsequent laser scan data of the ship in dry dock at Mystic Seaport made available to us.